School's Infrastructure
Air Conditioned Smart Classrooms
At Royale Cambridge, offers air conditioned smart classrooms to the children for a comfortable setting to interact with the teachers. Embedded with modern day technologies like smart boards, projectors and audio systems these classrooms are apt for modern day learning that goes beyond the books and allows children to clear all their concepts while having endless fun.
Student Centric Learning
At Royale Cambridge, we believe that children are naturally curious and highly inquiring in nature.Our mission is to provide a caring, healthy and challenging environment where learners are nurtured to face with confidence, imagination, and integrity.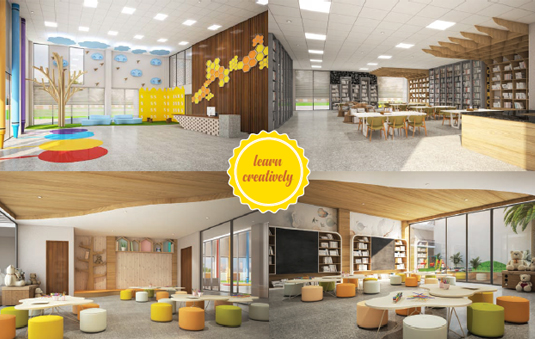 Elevators
At Royale Cambridge provides Elevator for easy access to the teachers and students, so that they get there on time, every time. The elevator runs under supervision to ensure that the child is safe.
DIGITAL LABS
Biology Lab
Planned as per the CBSE requirements, biology lab is an interesting place for all the learners to visit as it takes them a step nearer to their own lives. It is designed by keeping in mind the latest syllabus and guidelines of CBSE. Entire infrastructure i.e. models, specimens, charts, chemicals etc. have been planned to satisfy the scientific curiosity of every learner.
Chemistry Lab
It is a place where students can conduct various subject related practical in order to get clarity on theoretical concepts. The Chemistry Lab at Royal Cambridge is well equipped with all the modern apparatus and chemicals. It offers opportunities to learners to complete their projects and experiments with the help and guidance of experienced lab assistants and faculties respectively. Emphasis is given on safety measures for making learning a hassle-free process.
Physics Lab
Physics laboratory is a place where a curious scientific mind gets an answer to all his queries. The school has a dedicated Physics Lab with the latest equipments for the learners to perform the experiments and acquire hands-on experience. Various CBSE guidelines have been taken care while developing the infrastructure for physics lab.
Computer lab
The school has an Integrated computer lab equipped with sufficient number of computers and high speed internet access. Every single equipment of computer lab is of latest technology and as per the norms of CBSE. It has the sufficient capacity to accommodate required number of learners at one go. The learners have free access to the systems and are encouraged to explore the available resources and in this highly experienced and talented computer teachers and a lab assistant support them.
Language Lab
Language lab is well equipped with highly modern and sophisticated communication system fitted for speech therapy and other audio and video activities that are designed to help learners develop awareness about how to learn, improve their language skills like pronunciation and intonation. English, Hindi, and Punjabi are the languages to be taught in the school.
Mathematics Lab
The school has an Integrated well-equipped Mathematics Laboratory as per CBSE norms which provides a strong logical understanding of Mathematical Concepts. It is a place for learners to enjoy mathematics through informal exploration. Math lab is a place where learners can get an answers for their problems. It is a place where learner can investigate, generate, explore and design new mathematical activities.
Information Technology
At Royale Cambridge, technology is viewed as a key tool to learning. Laptops and tablets will be made available to Primary School students on need basis for specific educational modules. Students from Middle School upwards will have personal laptops which are radio-linked to the school intranet. With campus-wide Wi-Fi connectivity, students get continuous (monitored) access to the internet. Our 'real time' reporting system is also fully computerized, enabling parents to track their child's progress online.
Library
At Royale Cmbridge, we will encourage a love for reading. Our Libraries not only have a vast range of real books but go beyond; offering digital media content, online databases, films and e-books. Each library also houses quiet story-telling corners. Our state-of-the-art Library Management Software provides students access to the library resources online.
Medical room or infirmary
School ensures the maximum possible care is being taken of children during the school hours. A medical room has been specially formulated for this purpose and is managed by an experienced staff. Basic first aid facilities are provided for the students whenever required. Parents are kept informed about the health status of their wards. The school has a well-equipped dispensary for first aid and minor medical services. School has the links with all the local hospitals and doctors for any emergency. We make sure that First Aid Kit is always available.
Day Care Facilities
Day care is fast emerging as the need of working parents. The school offers day care facility to its school teachers and other working parents where enough care shall be taken about the mental and social development of the child.